Lifts in Courchevel will be adapted for the children
The famous ski resort of Courchevel in France has decided to care not only about the oligarchs, but also the younger generation. Before the winter 2012-2013 season administration of the resort decided to upgrade all 18 chairlifts lifts to make them more comfortable for the children.
Alpine skiing in France: summer 2012
Due to the unusually snowy winter snow cover level in the French Alps, especially on glaciers, allows some resorts to announce opening of the summer ski season. So, on last weekend its first guests received Les Deux Alpes ski resort located in the heart of the Oisans Alpine mountain range at the foot of one of the largest glaciers in Europe.
Ski resort in France as the capital of mountain biking
French ski resort of Les Deux Alpes promises to become a new Klondike for the fans of winter and summer extreme. This summer season resort will attract visitors by the Crankworx festival, which will be held in Les Deux Alpes from 9 to 15 July, 2012.
Alpine skiing in France: successful season in the Alps
According to official statistics, the last 2011-2012 season was quite successful for the French Alps. The number of tourists visited ski resorts in France at the famous peaks increased compared with the previous year by 2%.
Serre Chevalier in spring: festivals and tours
Serre Chevalier ski resort prepared a set of interesting festivals and events at the end of the season, which were not held during the whole winter. Spring on the resort slopes promises to be a very busy season.
French ski resort offers dinner on the lift
The French ski resort of les Gets located in the Portes du Soleil region presented an unusual offer for the guests, who will arrive on holiday in les Gets for the Valentine's Day in 2012. Resort operator offers all lovers the opportunity to book a dinner in gondola.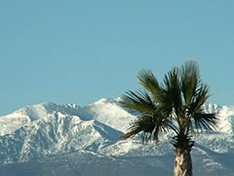 Alpine ski resorts received snow at last
Pessimistic predictions about the upcoming Alpine ski season did not realized, which pleased skiers and resort operators in Austria, France, Italy and Switzerland. The Alps experienced heavy snowfalls on Monday.
New ski area appeared in France
Several small alpine resorts in France merged into one large ski resort area, which was called "Ski Lake Annecy". Local slopes are distinguished by relaxed atmosphere, tranquility and beauty of the alpine nature, which is combined with the traditional developed French ski infrastructure.
Ski resorts in France: Three Valleys news
One of the most famous ski areas of France - Three Valleys - is going to be fully prepared for the new season. Such resorts as Courchevel and Meribel, which are parts of the region, will offer its guests updated lifts and new elements of ski infrastructure.
Alpine skiing in France: Rock on Snowboard 2011
Several ski resorts in France this year will participate in the festival Rock on Snowboard, which will unite the fans of winter recreation and music.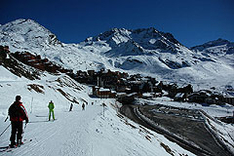 Skiing in France: opening of the 2011-2012 season
Early beginning of the season on the Grand Motte glacier will allow Tignes to be the first ski resort in France, which will offer winter skiing in autumn
Tignes is a ski resort in France, which will soon begin construction of a new luxury apartment complex. The MGM company, which is known in France as one of the largest developers on the ski real estate market of the country, launches a residence project, which is named Kalinda Village.
Alpine skiing in France: discounts in Chamonix
Chamonix is a French ski resort, which is famous around the world for its picturesque Mont Blanc slopes, announced the beginning of ski passes pre-selling for the resort's slopes. Ski passes can be bought at a discounted price in the beginning of September.
Meribel: skiing accommodation in France for 720 000 EUR
One of the best ski resorts in France - Meribel - in anticipation of the ski season 2011-2012, attracts investors with new complexes of ski property in the area of its paths.
Skiing resorts of France: Le Gets and Les Arcs news.
Just two ski resorts in French Alps informed about preparing updates for the upcoming season last week. It's Les Gets and Les Arcs.
Ski resorts in France: Tignes is opened until May
In Tignes ended European Winter X Games 2011, which took place from 16 to 18 March. During three days 75,000 visitors have enjoyed free enchanting spectacle - the feats of the best freestylers of the world, including snowboarder Yuri Podladchikov, who won
Ski resorts in France: season continues
French ski resorts continue to delight its guests with numerous sales and surprises. New routes, tracks, special offers and tours to ski France - there are still some new products.
Courchevel for an oligarch: the birthday of Victor Pinchuk
EUR 5 million cost the festive party in Courchevel on the occasion of the 50th anniversary of one of the richest people of Ukraine - steel magnate Viktor Pinchuk.
France in winter 2010-2011: updates and discounts
Flain ski resort in Grand Massif region – already this winter there will be available after upgrading the main gondola of the resort, newly opened slopes, as well as two new hotels.
Skiing in France: rental discount
Ski resorts of France, as usual in November, are preparing for the upcoming season a whole set of attractive offers for tourists. In addition to numerous festivals and grand openings, alpine skiing and discounts in hotels, which annually are broadly prese
Ski France at the exhibitions in Russia
On October 23-24 in St. Petersburg will be held one of the largest exhibitions in the field of winter tourism and mountain skiing - Ski Salon. "Ski Salon" in St. Petersburg will open its doors as early as 14 times. During its existence it has become one o
Ski resorts in France: toboggan in Les Arcs
French ski resort Les Arcs in the current ski season is getting ready to offer its guests special experience. Tourists can get it on the new route of toboggan, which promises to become one of the largest ski slopes in Europe.
Courchevel hosts a long-awaited Slalom World Cup
Courchevel, a ski resort in France, known for its popularity among the oligarchs and the exclusive chic, can finally afford to be called a sports resort with full rights. On the slopes of Courchevel for the first time in the last twenty years will be held
Alpine Ski in France: Tignes Invites Amateurs Of Extreme
Alpine ski in France is up to date even in spring. And continuous growth of visitors who prefer to spend their holidays at local ski resorts is a great example to prove this statement. Rather well known Tignes is far from being the last in the list of mos
Courchevel Prefers Salvador Dali To Russian Oligarchs
Starting from December 5, 2009 in Courchevel has been held a unique event – the open air exhibition of Salvador Dalí's sculptures named "Dalí at the Top". In total, fourteen impressive pieces of art created by the famous surrealist are exhibited right on
French Ski Resorts: Snowfalls And Avalanches
Heavy snowfalls that took place during the last two weeks all over French ski resorts brought some good and bad news at the same time. Good news is that the majority of ski slopes in France can provide now excellent skiing conditions.
Andros Trophy is a famous racing series established in 1990 by professional racer Max Mamers. This year Alpe d'Huez ski resort will host it on December 19, 2009
Fresh New Music Festival TignesFest in April
In between 16-19th of April, 2009 a Fresh New Music Festival TignesFest, a rather popular culture event, will held on one of the highest ski resorts Tignes, located in the French Alps. The festival will feature a wide range of musical talents varying from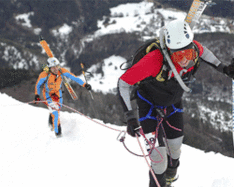 The Tour de Grand Veymont ski mountaineering competition, the first leg of the Grenoble Trois Massif competition (that represents the three mountain ranges surrounding Grenoble - The Vercors, Belledonne and Chartreuse), will take place on Sunday 1st Febru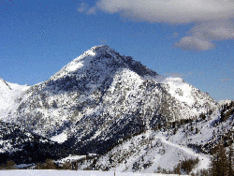 Montgenevre Presents New Enhancements
Montgenevre, a well-known French ski resort located in the Cottian Alps near the border with Italy, has recently presented new ski lifts and runs, thus, improving drastically its infrastructure and becoming more guest-friendly in general. Construction of