Klosters: new bike free-ride route
A grand event will be held at the popular European ski resort of Klosters in Switzerland. On June 30, 2012 summer season will be opened here. But it is designed not for skiers, but cyclists.
Swiss ski resorts: unsuccessful season
Ski resorts in Switzerland have lost client's interest. In total nine regions of the country recorded a decrease of the main indicators of tourist demand after the ski season.
Skiing in Switzerland: strong franc enables big discounts
Because of strengthening of the Swiss franc against euro and dollar prices for holiday in Switzerland have significantly increased and many tourists prefer to visit less expensive resorts in French or Austrian Alps. To save potential customers many ski resorts in Switzerland reduced prices for accommodation and services.
Schlitteda: sleigh rides in St. Moritz
Swiss ski resort of St. Moritz located in the Engadine Valley is known worldwide as one of the most exclusive and expensive winter recreational areas. Tourists often call this Swiss resort the Top of the World. Entertainment in this "reserve of the millionaires" is also appropriating: Cartier Polo World Cup, classical music festival Snow & Symphony, sailing regatta on the Lake St. Moritz and unique Ice Golf Championship.
Skiing in Switzerland: Duran Duran in Klosters
Klosters ski resort, which is along with the Davos forms one of the most famous winter recreation areas in Switzerland, this year promises to be especially popular among the tourists not only because of its tracks and alpine landscapes. On January 21, 2012 here will be held a festival, which promises to be one of the most vivid Swiss shows in 2012. Altitude Festival is the name of the new festival, which Klosters will host in January.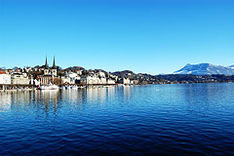 Lucerne attracts with ski discounts
Ski Switzerland prepares a surprise for its guests in many cities. After the end of the summer season more and more holidaymakers are turning their attention to the ski resorts of Switzerland
Zermatt and Saas Fe: the best transport in ski Switzerland
Already two ski resorts in Switzerland received the highest VCS (Swiss automobile club) marks for the quality of the transport systems in the "mobile and environmentally-friendly" rating.
St. Moritz: old cars at Swiss ski resort
At the popular Swiss ski resort St. Moritz on July 8, 2011 will begin the traditional festival of British classic cars (British Classic Car Meeting). During three days at the resort will be presented vintage cars, organized a rally race around the lake St. Moritz and held ceremonial presentation of prizes and certificates.
Ski resorts in Switzerland: Zermatt in summer
Zermatt is one of the few resorts in the world, where ski holidays are available all year round. Situated at 3000 meters altitude ski slopes make it possible to ski on good snow even in July. Therefore holidays in Zermatt every year it's not just winter m
In Switzerland will be held the restaurant piste
This is a funny competition, which aim is not victory, but participation. The race has already acquired the status of a regular event in Zermatt, which draws on the slopes of the resort many British skiers. This year it will be held for the 35th time.
Ski resorts in Switzerland: recreation in the new season
New Year at the ski resorts of Switzerland is expected to be eventful. In the current season several well-known ski resorts in Switzerland have prepared for tourists special offers and programs.
Zermatt Restaurant received a "solar prize"
Zermatt, which is known as one of the best ski resorts in Switzerland and a resort, where the ski season lasts all year round, added another bonus to its already significant reputation.
Swiss prosecutors intend to ban off-piste skiing
After the investigation of the causes of an avalanche that occurred on December 27, 2009 at the famous Swiss ski resort of Anzer, which is located in the heart of the Valais, the experts suggested that it might be caused by three skiers who were riding ab
Davos strengthens the reputation of the best business resort in Switzerland
Davos is known in Switzerland as a business ski resort. Davos will be able to confirm the status of 'business friendly" resort once again after the reconstruction of the Congress Center, which renovated rooms can now receive 5,000 people.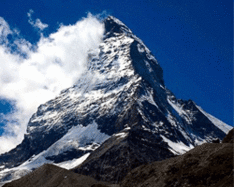 Zermatt Opens Highest Accomodation In Europe
Famous Swiss ski resort Zermatt has launched recently the highest located hotel in the European continent built to the top environmental standards. The new hotel and restaurant are situated at the top of their Matterhorn Glacier paradise ski area at 3.883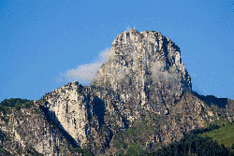 Zermatt Expands Freeride Terrain
Famous Swiss ski resort Zermatt situated at the northern foot of the mount Matterhorn in the district of Visp, canton of Valais, has enlarged its freeride area located on the slopes of Stockhorn. Funs of freeride, a relatively new but very popular and rap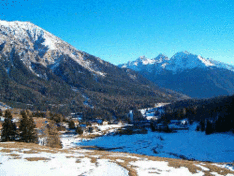 Lenzerheide-Valbella-Arosa Ski Lift Link Postponed
The residents of Lenzerheide voted against linking the neighbouring Swiss ski resorts of Lenzerheide-Valbella and Arosa with help of ski lifts. There were some plans to complete this connection that would create one of the largest Swiss ski areas by the 2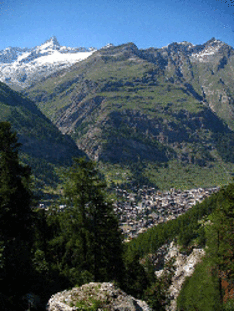 Famous Swiss ski resort Zermatt will give a chance to any romantic soul ready to pay 64 Swiss francs for adults and 48 Swiss francs for children aged 9 - 16 years to enjoy moonlit skiing.
Zermatt And Pitztal Try New Snowmaking Machine
The global warming makes management of ski areas to give a try of using modern technologies in order to provide decent snow conditions all over the season. Two fashionable European ski resorts Zermatt, Switzerland, and Pitztal, Austria, are starting to op
High Five Competition in Verbier
April, 5 Verbier, the ski resort situated in Switzerland, will host the High Five Competition. The competition includes five disciplines such as Parallel Slalom, Giant Slalom, Speed Monter, Big Bad Boarder Cross and Carlsberg Triathlon.
Switzerland is Working on Preventing Accidents on its Slopes
The skiers who spent this weekend in Switzerland in Zermatt were pleasantly surprised and got much pleasure. The speed at what the skiers were moving down was clocked by the special speed counters.
Arosa - Carbon Free Ski Resort
The Swiss ski resort of Arosa is considered to be one and the first ski resort where the skiers pay for their carbon dioxide output. As soon as you reach Arosa, your carbon dioxide output will be much less, perhaps, than it was in another place.
You have never skied before and now you want to take up some classes of skiing? You are not an experienced skier and you can't make up your mind where to go on your ski vacation?
Zermatt Offers Better Access to Its Slopes
There is one more good news for admirers of Zermatt – it is a new train route from Zermatt to Tasch that goes every night from Thursday to Sunday.