Skiing in Austria: all seasons in Hintertux
Hintertux is the only Austrian ski resort that offers year-round skiing. Unique opportunities of Hintertux allow it to attract amateurs of active holidays in Austria in summer not only by possibility of summer skiing, but also other sports, including mountain bike, rock climbing and white water rafting.
Alpine skiing in Austria: Soelden and MAXX
The famous ski resort of Soelden, which opens ski season in Austria, now is one of the first, which is preparing for closing ceremony. And the closing of the season in Soelden promises to be a memorable event. Here from April 29 to May 1 will be held a la
Mayrhofen: Prodigy at Snowbombing 2011
Mayrhofen, one of the most renowned and popular ski resorts in Austria, is closing the season with great event. From 4 to 9 April in Mayrhofen is to be held Snowbombing 2011 festival, where will perform leading electronic European teams.
Biathlon-hotel in Austria invites for staying
Biathlon-hotel Neubergerhof is located near the resort of Filzmoos in Salzburg. To date, this is the only hotel that offers a special biathlon tour in Austria.
Skiing in Austria: St. Anton will give way to women
St. Anton ski resort- one of the most famous winter holidays destinations in Austria - has decided to draw on its slopes extra travel resources. And this resource consists not just of workaholic athletes, but mostly of beautiful lovers of alpine skiing in
More and more Russians come to holiday in Austria
Demand for vacation in Austria among tourists from Russia continues to grow. Such a conclusion can be made by examining data published in late 2010 by the Austrian Agency for tourism marketing.
Ski resorts in Austria: millions of euros are spent for development
Ski resorts in Austria are investing millions of euros annually in the development of its infrastructure. This year is no exception. 70 million euros were invested in the equipment of one of the largest ski resorts in Austria - Kitzbuel.
Christmas in Austria: quiet Igls
Only 7 kilometers from the famous Austrian ski resort of Innsbruck is located a little village Igls. And even though the distance is quite small, the difference between these two resorts is colossal. Innsbruck is the legend of skiing, a center of folk art
Skiing in Austria: foreign instructors as a security threat
One of the main claims set forth in the Kronen Zeitung were poor training program offered by foreign ski instructors. The Austrian instructors provide tourists with full training including theoretical tests and practices, while foreign instructors offer m
Schladming is the best ski resort in Europe
On the eve of the upcoming ski season, the world's leading guides make their ratings of the best ski resorts. In Europe, one of the main evaluators is German ADAC motor guide. According to ADAC the best ski resort in Europe is the town of Schladming locat
Austrian ski resort opened a new sleigh track
The track for the sleighs has a length of 3km. It starts directly from the top of the ski lift station of Hochgurglbahn and goes down the slope to ski the terminal in the village of Pill.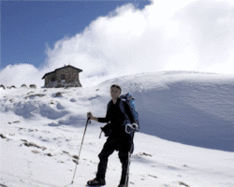 Australian ski resorts are open some five weeks ahead of planned date this year due to heavy snowfalls. For instance, Mount Buller resort situated in province Victoria has recently received about 35cm of early snow powder.
Snowfalls in Australia And New Zealand
Heavy snowfalls that took place over the Mount Hutt in New Zealand during the last week left huge snowdrifts up to three meters deep in some places. The ski area is closed on account of difficult weather conditions.
Ski Season In New Zealand And Australia Opened
Ski season at ski resorts Perisher Blue in Australia and Coronet Peak in New Zealand started on 7th June.