Ski resorts in Austria: Ischgl in April
One of the most famous and popular ski resorts in Austria - Ischgl - prepared in April several outstanding festivals.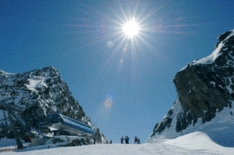 Stubai Glacier To Stay Open Until July
Representatives of Stubai Glacier ski area situated in Austria have announced that the resort is to stay open for boarders and skiers until at least July. It means that the lifts will be kept functioning and the slopes will be groomed.
St.Valentine's Day Offers from South Tyrol's Ski Resorts
If you adore skiing then you are welcome to South Tyrol. There are some offers that will please even capricious people. You are just to choose which one suits better to your choice.